12 August 2017
Event Alert: Mark Hill appears at Waterstones Colchester on September 11th.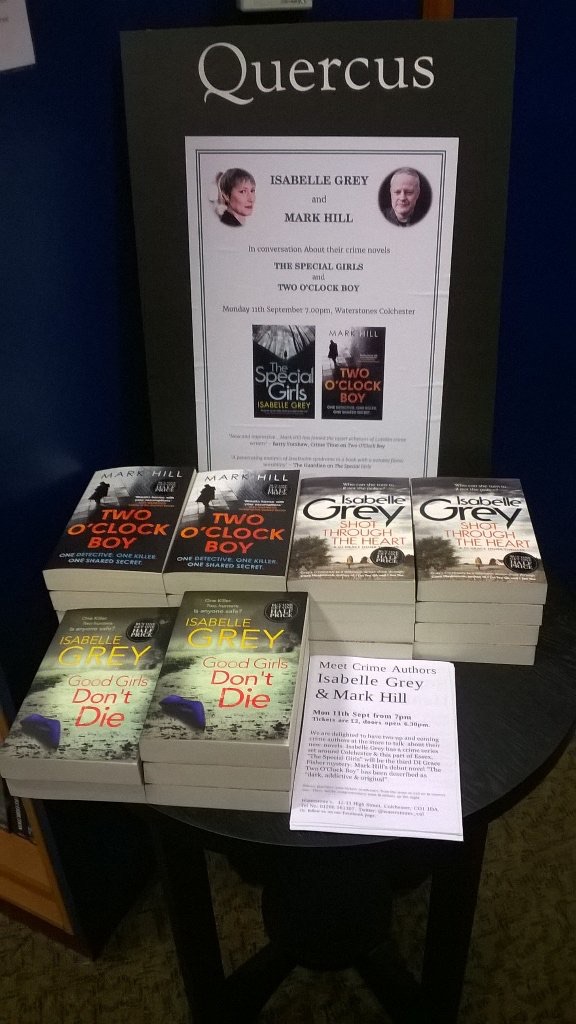 I'm thrilled to announce I'm going to be appearing in conversation with Isabelle Grey at Waterstones Colchester on Monday, September 11, 2017.
Isabelle is the author of the DI Grace Fisher series, which is set in that lovely of Essex. The third in the series The Special Girls is an insanely addictive and gripping mystery in which a young doctor's murder near a camp for the treatment of anorexic girls reveals links to cases of historic sex abuse. The story has been described as brave & harrowing in tackling such a difficult subject. Isabelle has had a long career in TV script writing before turning to novels.
There are parallels to my own debut novel, of course. Two O'Clock Boy features scenes in Essex and there's a dark historical undercurrent - involving the grim past of a children's home - to the modern-day investigation. And I'm also an Essex boy, so I'm looking forward to going back!
Isabelle is an engaging and fascinating writer, and together we'll be discussing crime fiction and writing and detectives and a lot of other stuff. There'll will be a chance to ask questions & get copies signed.
You can purchase a ticket in advance from the store at £2 or reserve one on 01206 561307. Doors open at 6.30pm and, wait - complementary wine & nibbles will be available!
I was lucky enough to interview Isabelle when she published her second novel Shot Through The Heart, and you can see that Q&A here.