08 December 2017
Mark Hill Shares His Writer's Routine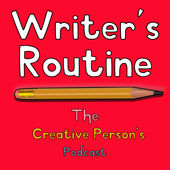 Dan Simpson has interviewed plenty of amazing authors as part of his Writer's Routine podcast - and I was thrilled to be interviewed for his latest edition.
So if you want to know my profound and penetrating thoughts on writin' and plottin' and stuff, you can now check it out!
And if that's not enough you can hear a Distinguished Diary extract from some guy called Arthur Miller.
You can find it here - https://aca.st/d4e536 also on iTunes and all the other good podcast places.